This has been happening for all Windows 10 Setup builds. Windows Setup will not let me upgrade my build (currently 11082) without losing my apps. I always get this message right after I click "
Upgrade
":
The computer started using the Windows installation media. Remove the installation media and restart your computer so that Windows starts normally. Then, insert the installation media and restart the upgrade. (Do not select "Custom (advanced)" to perform an upgrade. "Custom (advanced)" installs a new copy of Windows and deletes your programs and settings.)
I have tried opening setup from flash drives, tried in C:\, you name it I tried it, but every time I open setup (I even tried the setup.exe found in the sources folder), it refuses to upgrade due to it thinking "the computer started using the Windows installation media".
Note: The same installation files from the same flash drive worked to upgrade my laptop's Windows 10 build (which was also at build 11082), so I know the files in the installation folder are legit.
Here are some screenshots:
Then after agreeing to the Windows license policy and clicking on "Upgrade", I get the error which I wrote above.





I have fixed the partitioning to match the Microsoft recommended specification, and I have even tried booting the installation from another PC, but to no avail.
Here is my setupact.log:
http://pastebin.com/2WMe30Kn
SetupErr.log:
http://pastebin.com/bZAHMvJg
Closely related
: Bootrec.exe can't find the Windows installation even though Windows boots fine every time, System Restore can't find the installation either, and Windows Setup won't upgrade because it thinks it booted from installation media, as shown below: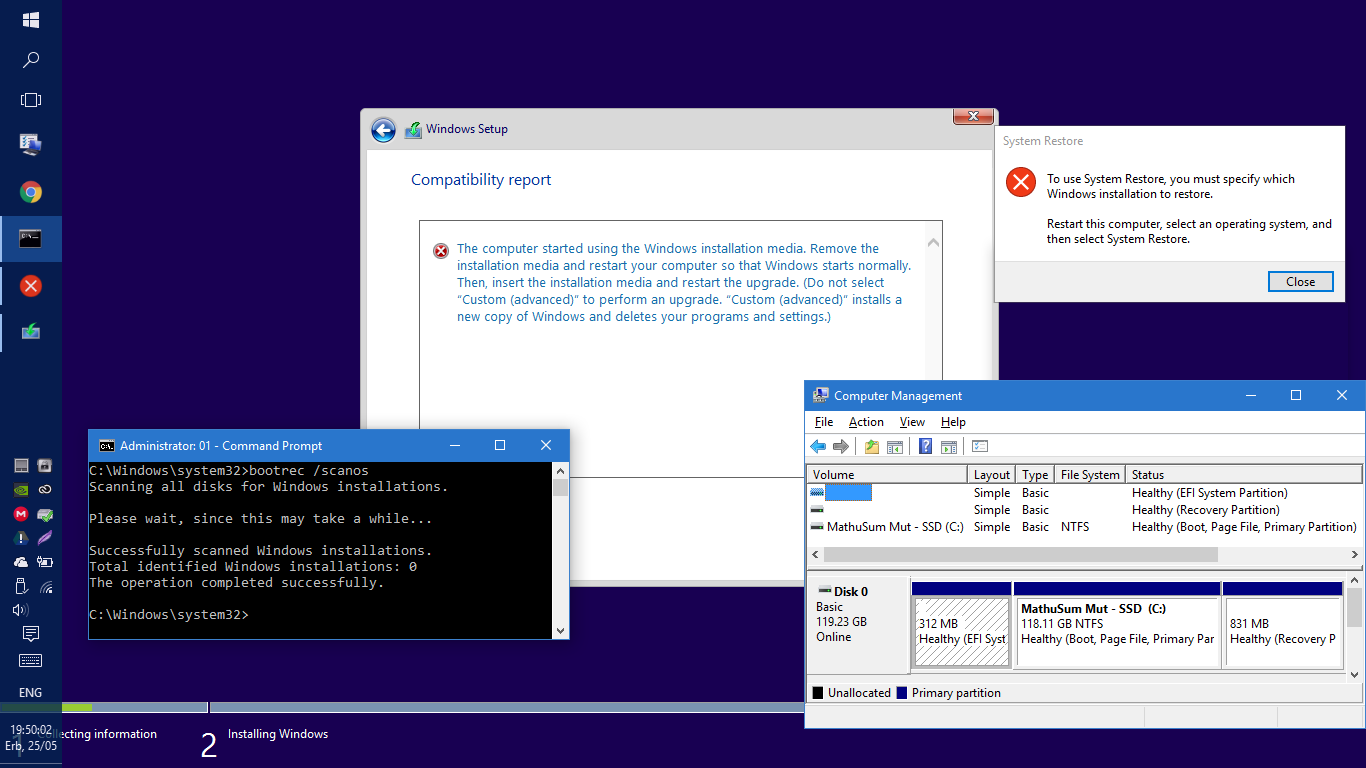 (Disk Manager is open to show that partitioning is UEFI and Microsoft-specification compliant).
Due to the fact that all of the above operations are not working as intended due to a similar error (ie. missing Windows installation), one would logically assume that the root of the setup problem and all these problems is a common ground that needs to be addressed:
How would I go about convincing Windows that it is installed hence being able to upgrade my version?